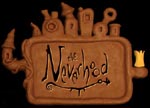 Helpful Hint Guide
Hey Kids, need a little help? Well here it is. The hint page that does not give away everything, but may help you along the way. We put this up as service to our loyal customers and friends of the Neverhood to give you a little help because unfortunately we cannot respond to each E-mail requesting a hint. There are just too many Neverhoodlians out there now.
Please note that not all of the solutions for all of the puzzles are given here, only those that are the most difficult or the most requested are here.

***Remember - The first thing you do before you cheat and then get mad at yourself because you should have figured it out is go to your mailbox down the ladder in the nursery, and see if Willie sent you some mail!!***

*There is now a hint book available for the game from your local software retailer.*
So if you do not find what you are looking for here, please go get one.
Where are you stuck?
There are two endings, so don't forget to watch 'em both!!!!!

[ Tippy Top Nifty Neverhood Logo Page | The People in The Neverhood ]
[Downloads | Money grab | Stupidity]
[ Viewer Mail | Game Hints ]

&copy 1996-97, The Neverhood, All Rights Reserved.