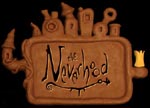 Downloads and Comic/Art Strip

This Month's Winner is:




Bess Beland
of Temperance, MI.

Congratulations to Bess for her excellent painting! She will receive the Grand Prize of 1 Super Cottony Neverhood T-Shirt. Here's her entry!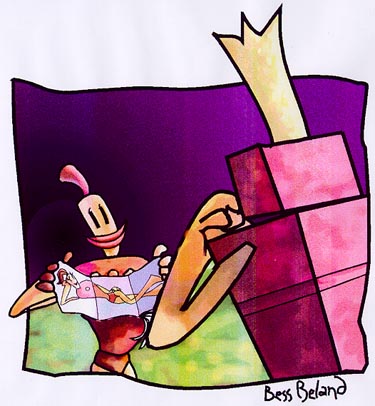 Hey Kids! Send in your entries to win a not so valuable Neverhood Official T-Shirt in our New Huge Comic Strip / Art Contest. Use your favorite characters from the Neverhood, or make up new ones to create your own hilarious comic. And because we get so many entries that are not comics at all, we have decided to change the rules. You can just draw a picture and send it in. Anything Arty!
The rules are:
No Nasty language.
No Dirty Pictures.
No Bare Feet Jokes.(All foot references will be instantly destroyed. Yes, even references to foot references will be destroyed.)

So go ahead and send 'em in via the US Postal Service or scan 'em and E-Mail 'em to dave@neverhood.com. Be sure to put "Huge Comic Contest" in for the subject heading, or else your entry might get lost. You may also mail to:
The Neverhood Huge Comic Contest
P.O. Box 99
Lake Forest, Ca 92630

The contest will be judged by the members of the Neverhood, and a new winner will be chosen each month, or until we get tired of doing it. The Next Deadline is is September 25th, 1997!
The Neverhood reserves the right to post all entries on this web site, and shred all crummy entries. Chances of winning vary depending on mood.

The following fun stuff has been zipped for minimal download time. So get yourself an unzip utility from someplace like WWW.WINZIP.COM. It's easy to use and runs in Windows 3.1 or 95.

Team picture. 54K-jpeg.


Download these nifty wallpapers for Windows. Just choose your resolution.
MK.BMP 800x600 Resolution (177K)
MK1.BMP 1024x768 Resolution (274K)


Download the first Super Special Edition Comic.
COMIC1.ZIP (69K)


Download the infamous Word Comic.
COMIC2.ZIP (85K)


The comic that started it all. Super Special Comic Zero.
COMIC0.ZIP (85K)

[ Tippy Top Nifty Neverhood Logo Page | The People in The Neverhood ]
[Downloads | Money grab | Stupidity]
[ Viewer Mail | Game Hints ]

&copy 1996-97, The Neverhood, All Rights Reserved.